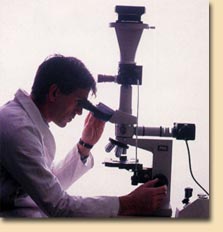 Quality has always been a priority for Metrocast Italiana, since the foundation in 1967.
Through these decades of history, our company has always distinguished itself on the italian and international markets for its reliability and competence in facing the developing of every single casting, finding the best solutions both for the simpliest part and for the complex component.
The one who knows investment casting, when has in his hands one of our parts can recognize at first sight the surface high quality level, the very fine details, the correct metallurgical execution.
In a market where companies born and disappear every day, the opportunity to rely on an historical company like Metrocast Italiana becomes a guarantee of stability and confidence.
With the aim to supply our customers with the highest quality level products and services, in August 2000, after a hard work on site, we got our quality system certified by DNV (Det Norske Veritas) according to the UNI EN ISO 9002 standards.
In subsequent years, the certification has been maintained and adapted to the different standard updates, and today we meet the latest version of UNI EN ISO 9001.
This recognition, which we are proud of, is the proof of the constant and obstinate commitment of our employees in achiving our customers' satisfaction: our main and first target.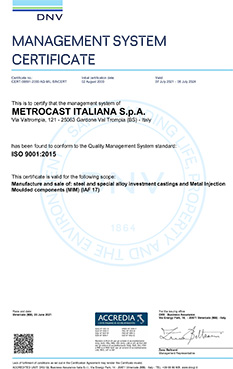 We would like to underline that the recognition has been double: Metrocast Italiana has been certified both for investment casting and for Metal Injection Moulding (MIM).
That means that Metrocast Italiana is not only the first italian company to produce MIM parts as a subcontractor, but today is also the first italian company to be certified specifically as a MIM parts producer and seller.
NON-DESTRUCTIVE TESTS
Metrocast Italiana is equipped with state-of-the-art control systems, in order to guarantee a constant monitoring of its process and to supply our customers with all the certifications of conformity eventually required by international standards.
Our lab is equipped with an ARL spectroscopy, with Bausch&Lomb optical system, to analyse every single heat. We also have a spectrophotometer and other specific equipments to analyse some particular alloys and to control the non-metal elements.
Of course we are equipped with a durometer, an optical comparator, two magnetoscopes, one pentrant liquids inspection system, and a lot of strumentations for metrological measurements.