After having mixed fine metal powders and a thermoplastic binder to form a pelletized molding compound, this mixture, called "feedstock", is then injected into a mold cavity.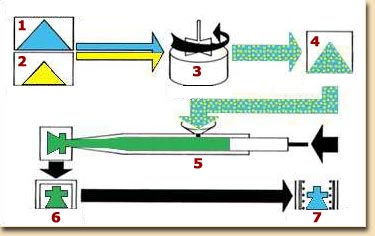 The plastic binder is used only as a carrier to the metal powder in order to obtain by injection the desired geometry: after injection, the binder is no longer needed.
For this reason, as-molded parts ("green" parts) are exposed to heat in a special oven to remove most of the binder material. Afterwards, the debound parts are sintered at high temperature in controlled atmosphere.
During this step, the voids created by the plastic removal close in and there is a shrinkage of approximately 20%.
The parts shrink to nearly full density and the process is complete.
A short description of the process is shown in the above scheme:
1 - Metal powder
2 - Plastic binder
3 - Mixing
4 - Feedstock
5 - Injection moulding
6 - Debinding
7 - Sintering